WELCOME TO CLARRICKS BOXERS
Hello thankyou for looking at my site, I hope you enjoy it.
Please sign the Guestbook before you leave.

My name is Clare, and I have been showing and breeding Boxers for fourteen years.
My affix was granted in 1998, I am a member of London & Home Counties BC The British Boxer Club and a commitee member of Essex and Eastern Counties Boxer Club.
I first fell in love with boxers when I was thirteen and worked as a kennel maid in the summer holidays and at weekends, there was a boxer bitch that used to board with us called Cassie Pollack, she was adorable and I wished she was mine. Since then I always knew that a boxer would end up owning me.
I spent a few years admiring the breed and reading book after book on them as well as attending shows.

My husband bought me my first one, as he knew that I had always wanted one, and the children were now old enough that I would have time for a puppy, so we went all the way to Blackburn (we live in Kent) and bought 'Cassie', it was only right that she was called that! She was a Tonatron True Glory grandaughter. Cassie was a great learning tool, the most intelligent dog I have ever known and my best friend. All showing dreams went out the window after the cat swiped her and blinded her in one eye, but she never let that stop her love of life, she gained her Bronze good citizen award and competed in obedience and local exemption shows.
After a couple of years and more research I decided to get another Boxer I Bought Diva (Kenbru Sings The Blues At Clarricks) from Gill Davies - CH Klansted out of the Mist x Kenbru Bed Of Roses.
I wanted something really nice to become my foundation bitch. Diva proved herself not only in the show ring, but also in the whelping box, producing Clarricks Funky Diva and Clarricks ShBoom ShBoom.
Please check out the other pages on this site to find out more about our dogs.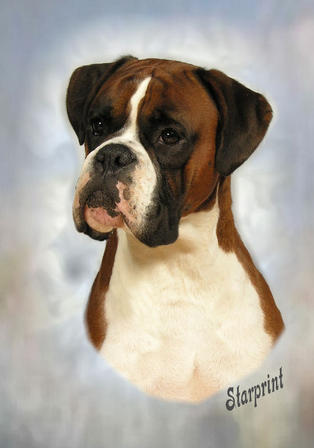 Dibrid Ribbons N Bows At Clarricks (Shola)
By CH Abythorn All Wrapped Up For Carmondene X Dibrid Glitz N Glamour is our latest show prospect. Shola is from the excellent Dibrid Kennels and we are extrememly grateful to Dianne Hannam for intrusting her to us.
STOP PRESS....Shola wins Essex and Eastern puppy walk, September Rally, London and Home Counties Puppy Walk, October Rally, Essex and Eastern Puppy Walk October rally ...
Picture below right, more pictures on her page
Clarricks ShBoom ShBoom ShCM 1CC
(picture above) photo by Star Print
Todd is from Divas second litter. He is sired by Wisella Red Rebellion At Taura,who was sired by Faerdorn Fineas Fogg and is also a Ch Klansted out of the mist grandson.
STOP PRESS TODD WINS 1ST CC AT BLACKPOOL CHAMPIONSHIP SHOW
Todd continues to do very well in the ring and has had many best puppy in breeds, 40 best of breeds, group placings , Best puppy in show , best in Shows and Champ show placings. He has been London and Home Counties Pup of the year and three times Dog of the year. He is a multiple kent Super Dog qualifier and was Essex Super Dog 2007 all breeds. Todd has qualified for Crufts for life, after gaining his stud book number and is heartested Grade 0/1. He is available at Stud, to approved bitches. POA
Todd has sired very promising puppies including crufts qualifiers, junior warrant and CC winners